Sealegs Kayaking currently has a limited number of used kayaks for sale at our beachfront Eco-Adventure Centre in Ladysmith, Vancouver Island. We will be offering more used kayaks for sale again at the end of the 2021 season.
Give us a call at 250-245-4096 or e-mail us at info@sealegskayaking.com
2021 Used Delta 17 (1 Yellow available)
The Delta 17 is an excellent choice for paddlers looking to cruise on lakes, paddle extended trips or have fun in ocean swells. The Delta 17 is a veritable champion in the surf and delivers its abilities with speed and grace. Its v-shaped hull, pronounced chine and moderate rocker offer paddlers a smooth transition to edge and impressive tracking. It features our Press-Lock hatch system, multi-position Contour II Seat System, front deck Day-Pod, dual-density soft grip handles and innovative bungee risers.
Excelling in rough seas, surf and wind, the elegant Delta 16 offers a balanced combination of manoeuvrability with excellent tracking to stay the course in challenging conditions. It easily keeps a quick responsive pace and has enough storage capacity for multi-day exploration. It features a low profile front day hatch, new Press-Lock Hatch System, proprietary bow and stern Paddle-Park, and Delta's multi-position Contour II Seat System. Rounding off its features is an option of a skeg or rudder for enhanced tracking or directional aid in rougher conditions.
2021 Used Delta 15.5GT (SOLD)
The all new Delta 15.5GT offers more performance, comfort and features than ever before. Its expedition platform boasts the load capacity and comfort for those longer trips. As a comfortable cruiser, it offers excellent speed and handling without compromising stability. The Delta 15.5GT is ideal for paddlers looking for a kayak that performs on day excursions and longer expeditions alike. It's long waterline and moderate v-shaped hull will help keep paddlers on course in any sea condition. Featuring Delta's proprietary Press-Lock Hatch System, multi-position Contour II Seat System, innovative bungee-risers and new soft grip handles.
The Delta 12AR's Large Recreational Cockpit and premium outfitting are geared towards easy entry and all-day comfort. Setting it apart from other open cockpit kayaks, our Fusion Hull design offers effortless glide, precise handling and exceptional stability. Whether you're a novice, angler, photographer or paddling enthusiast it's the perfect platform for your next adventure. It offers plenty of space for gear and puts safety first with two sealed hatches at the bow and stern. Feature rich with Delta's multi-position Contour II Seat System, quick and easy Press-Lock hatches, recessed bungee lines and dual density comfort carry handles.
2019 Used Delta Traverse 17.5T
The all-new Delta Traverse 17.5T is a highly versatile and lightweight tandem ideally suited to paddlers of every skill level. It is exceptionally well rounded in its capabilities and will handle a wide range of conditions for short or longer range exploration. It has lots of capacity for all your gear with 3 sealed compartments, including a convenient centre day-pod. Outfitted for safety, comfort and performance, this sleek new tandem features Delta's Contour 2 seat system, Press Lock Hatches, self-retracting comfort handles, extensive deck rigging, adjustable foot braces for and aft, and Delta's no hassle rudder system.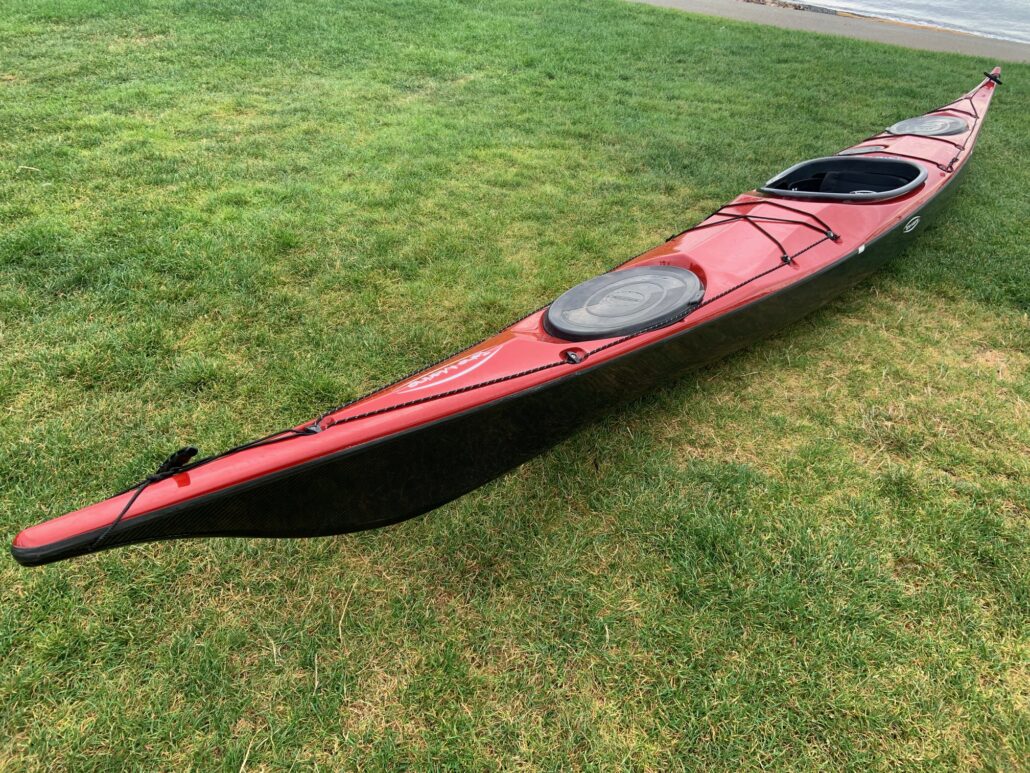 Our Reval series is a family of full-blooded seafaring kayaks. The Reval's design elements attest to one thing: Here is the kayak of choice for those who want peace of mind when they find themselves out there at the mercy of the waves. The Reval's streamlined "banana shaped" hull with a noticeably lower back is a fantastically stylish sight to behold. But it is not only about good looks. The Reval is an ideal choice for adrenaline seekers, as these kayaks have wonderful stability and navigability even in breaking waves and strong winds. The dry storage compartments of various sizes, an appealing selection of colors, and an optional full carbon hull, guarantee that our Reval series will become your beloved companion for all of your open water adventures.