Capsize and Recovery Training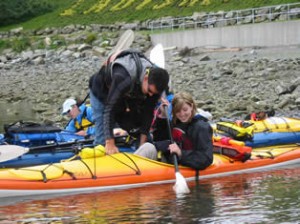 Sealegs offers custom clinics in Capsize & Recovery training. In this clinic you will learn:
How to safely exit & re-enter your sea kayak in the event your boat should capsize.
How to use your safety equipment to re-enter your kayak.
Capsize without sprayskirts
Capsize with sprayskirts
Self rescue with paddle float
How to use a stirrup
Book your custom lesson today. Call our office 250-245-4096
Or email us at info@sealegskayaking.com
Lessons Include:
Certified professional guide
Kayak rental, wet suit rental and all safety gear
Date & Time:
Contact us to schedule your lesson! 250-245-4096 info@sealegskayaking.com
Cost:
Private: $120 per person per hour
Semi-Private: $90 per person per hour
Location:
Sealegs Eco-Adventure Center, Transfer Beach, Ladysmith
Effective paddling techniques will allow you to maneuver more efficiently, improve your endurance, use a greater variety of muscle groups and reduce injury & fatigue.
In this lesson you will learn:
Forward Stroke
Reverse Stroke
Stopping Stroke
Reverse and forward sweep
Draw
Low Brace
Scull
Paddling with and without a rudder
Book your lesson today!    250-245-4096     info@sealegskayaking.com
Lessons Include:
Certified professional guide
Kayak rental, wet suit rental (if required) and all safety gear
Date & Time:
Contact us to schedule your lesson!
Cost:
Private: $120 per person per hour
Semi-Private: $90 per person per hour
Location:
Sealegs Eco-Adventure Center, Transfer Beach, Ladysmith